News From the Alumni Association
New Membership Levels Introduced
A message from co-presidents, Mary-Jane Beavers '73 and Joe Franks '78
In May, the Alumni Association Board voted to create a tier of annual membership categories to help stimulate giving from our alumni and friends of Grimsley. We have always had an annual membership of $25.00 and many people choose to give more than that. What we have come to find over the years is that people often equate a one time gift with lifetime membership.
Organizations have always tried to find creative ways of marketing their membership/donation structure. Our Board felt that by creating two additional categories related to the equivalent of monthly donations, this would be a way to motivate folks to give at different levels. In addition to the base membership, a Sustainer Membership will be introduced for $60.00 per year.Folks, this is basically the cost of a cup of coffee, $5.00, per month. When put that way, there are many alumni and friends of Grimsley that will find this appealing. The creation of the Whirlie Society, for an annual donation of $240.00 (or above), comes out to $20.00 per month. This is equivalent to what many organizations solicit from individuals for various charities throughout the country.
Auditorium Renovation Fundraiser Continues
The renovation project for historic Chance-Cousins Auditorium is an ongoing effort by the Assocaiton. We have not yet reached our goal of $250,000. Please consider making a tax-deductible donation.
You can still make a donation online here, or by you can use the mail-in form available here. We appreciate your support!
Check Out Our Latest Newsletter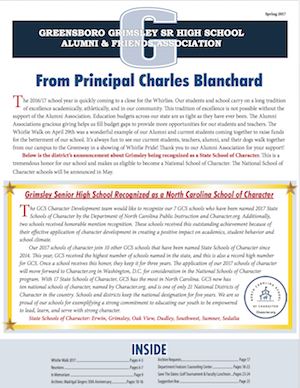 The good news from Grimsley just keeps on coming! Grimsley was named one a 2017 School of Character by the NC Department of Public Instruction and Character.org
Find out more about alumni events, what other whirlies are up to these days and much more.