A History of Greensboro/Grimsley Senior High School
by Peter Byrd, class of '74
1899-1910 | World War 1 | 1917 - 1920 | 1920 - 1935 | 30's and 40's | World War 11 | 50's and 60's |
End of Century | 2000 to present
Even though the Greensboro City Schools had been in existence since 1875, a separate "high school department" beyond the grammar school level was not created until 1899, when Superintendent George A. Grimsley arranged for the purchase of the old St. Agnes Catholic Church building on North Forbis Street in order to establish Greensboro High School. (The two-story church structure had been constructed in 1877 and has been described as a high-pitched frame building.) Opening in the fall of 1899 and operating at that site until 1910, GHS became one of the first public high schools in North Carolina. The school was located behind the First Presbyterian Church (now the Greensboro Historical Museum) and next door to the Lindsay Street Grammar School, on part of the land occupied today by the new Greensboro Public Library.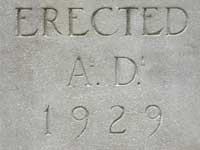 All Hail to thee,
Our Alma Mater strong
We'll sing thy praise
Through all our days,
With this triumphant song.
All hail to thee
And as the days go by,
We'll pledge our faith
And love and loyalty,
Greensboro Grimsley High.