Alumni Support
New System for Transcript Requests
Beginning October 1, 2015, graduates and former students will no longer request paper transcripts. Guilford County Schools has gone to an on-line request system. If you want to request a transcript, follow this link. Select To Get Started on left, click appropriate link and enter your information.
There is no cost for the service for current students; however graduates will now have to pay a $13.00 fee.
Support the Renovation of Chance-Cousins Auditorium

The Greensboro Grimsley Senior High Alumni and Friends Association Board of Directors has announced that a long awaited effort to raise funds for renovations to the Chance- Cousins auditorium will kick off this fall. The campaign goal of $250,000 will cover much needed repairs to our historic auditorium.
We know that this will take a lot of work and your participation would be welcome. If you want to serve on the steering committee, make suggestions or help in any way, contact Ron Wilson at ronaldlwilson@yahoo.com or Linda Wilson at lindaw3303@bellsouth.net.
Please consider making a donation. You can donate online here or use the mail-in donation form. It can be downloaded here.
Earn $$$ for GHS by grocery shopping at Harris Teeter

This has to be renewed each school year!
Please support us again this year!
If you shop at Harris Teeter and have a VIC Card, please designate GHS as your "Together in Education" school. Through this program, every time you buy Harris Teeter private label items between August and May, they will contribute 1% of those purchase dollars to GHS. This is a school year program, so you need to register every August.
Grimsley has the following groups available under this program:
| | |
| --- | --- |
| 6809 | Grimsley High School Alumni Assoc. |
| 1128 | Grimsley High School Band Boosters |
| 4651 | Grimsley High School Athletic Boosters |
| 4962 | Grimsley High School PTSA |
| 4910 | Grimsley High School Science Olympiad |
| 4929 | Grimsley High School Friends of Orchestra |
| 4618 | Grimsley Senior High Choral Program |
To sign up, either give the four-digit code to the cashier when you check out or sign up online.
Thank you for continuing to support GHS is so many ways!

WHIRLIES WALKWAY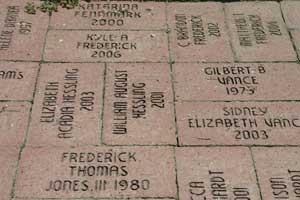 The Whirlie Walkway will honor our greatest assets – students, staff, graduates and friends of Grimsley. Purchase a specially engraved brick for the Whirlie Walkway located near the flag pole on the Service Road side of Sawyer Gym. Proceeds from the brick sale support the PTSA and Grimsley High School.

Click here for mailable pdf form


Whirligigs Available
More than a few boxes of unsold WHIRLIGIGs from over the years have surfaced at Grimsley, and we would like our help in getting rid of them to make room for more storage. If you've lost one or failed to purchase a copy when you were a student, this may be your chance! The dates available are 1970, 1971, 1975, 1977, 1980, 1982, 1983, 1984, 1985, 1986, 1987, 1988, 1989, 1990, 1991, 1992, 1993, 1994, 1995 and 1996. If you are interested, please contact Christina Adams at the school (336) 370-8184 or by mail at 801 Westover Terrace, Greensboro, NC 27408 for details. This is your chance to get your WHIRLIGIG as well as to add to the funds available for publishing future editions. Copies are limited, so don't delay!
Looking for Whirligigs?
If you have old REFLECTORs or WHIRLIGIGs which you longer wish to keep, or are looking for the same, please contact Peter Byrd '74 at 2753 W. George Mason Road, Falls Church, VA 22042-2024. He is establishing a "clearing house" for old GHS annuals. Personal messages can be removed from the back pages.
Find Your Classmate Online
Have you ever wondered how in the world you might contact an old boyfriend or the girl who sat next to you in Spanish Class? Or do you wonder what your class president is doing today ... or wonder if the guy voted mostly likely to succeed really did?
Well, you can look up your old buddies on the Internet. Just go to www.classmates.com.They maintain lists of e-mail addresses by high school ... and Grimsley is on their list. You can put your name and e-mail address on their page for free, but for a mere $15.00 you can join.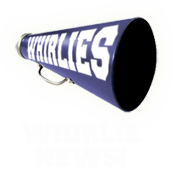 Send Us Your News!
Do you have some news for Whirlie Alumni's? Please email it to us and we'll add it to the site!